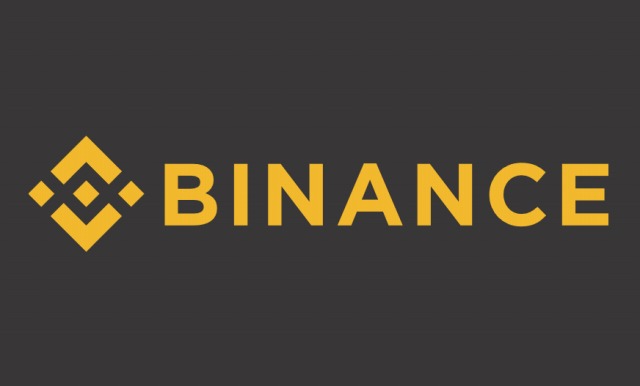 [Overview of BINANCE]
・ Company name: BINANCE
・ Headquarters: Hong Kong
・ Establishment: July 2017
・ CEO: ChangPeng Zhao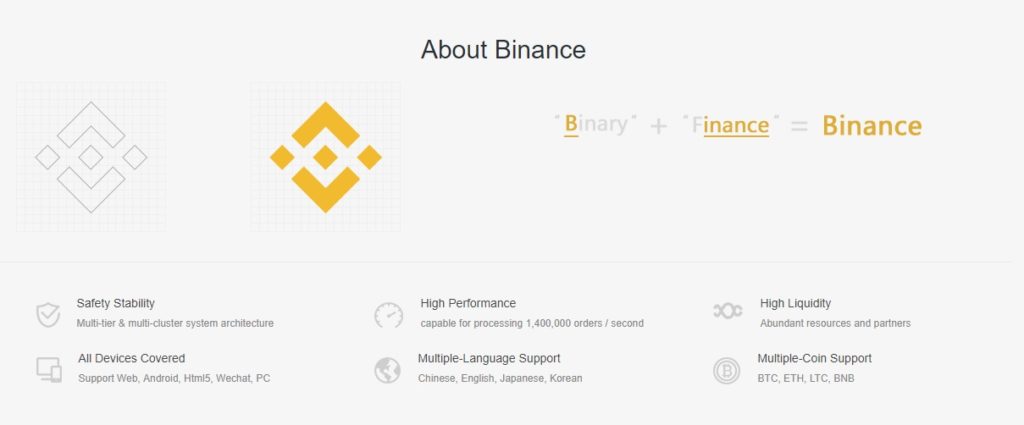 BINANCE is the cryptocurrency platform launched by Mr. Chang Peng Zhao who worked at the cryptocurrency exchange "OKCoin" which is a major company in China.
We handle more than 100 Altcoin besides Bitcoin.
The types of cryptocurrencies that can be traded will continue to increase.
There are many famous cryptocurrencies and minor cryptocurrencies, so there are many opportunities to make profits.
And, it is also a feature of vinance that the commission when trading Altcoin is cheap.
[Benefits of Binance]
1,handling fee is world top class (0.05%)
2,Since there are over 100 kinds of currencies handled, there are many investment opportunities
3,Candidate for cryptocurrency to be handled is decided by popularity vote from users
4,Intuitive operation screen easy to understand even for beginners
5,transaction volume is high
6,Because the ability of order processing is high, transactions are smooth
7. Early from the completion of registration until the start of trading
1, Handling fee is world top class (0.05%)
There are many virtual currency exchanges in the world, but among them it is the world's top class cheap fee.
There is a coin called Binance Coin (BNB), a token issued by Binance.
If you pay the transaction fee with BNB, the fee will change from 0.1% to 0.05%, and you can use it with a lower fee.
Also, Binance Coin (BNB) can trade like normal currency.
Prices of BNB tend to rise with the growth of BUNABCE. Currently, BNB is the market capitalization that ranked 20th or more among all virtual currencies.
Current market capitalization is already in the 20th rank among all virtual currencies.
2, More than 100 types of encryption currencies can be traded
The more currencies, the wider the investment destination, the more likely the profit will come out.
As BINANCE deals with many currencies that have not yet risen in price, it is common that "200% price got up", "the price became ten times in one week".
At domestic exchanges, markets are already mature and there are not many opportunities to rise significantly like BINANCE.
Even in that sense, registering with BINANCE and trade it can be said to be a very clever choice.
The number of currencies handled is very important.

3, The currency candidate handled by BINANCE is decided by the popularity vote from the user
There are over 100 kinds of currencies handled, but it is not necessarily good if there are many handling coins. It also includes currencies with high risk of falling by that amount. Exchange does not deal with such suspicious coins, and exchanges are required to have the ability to select highly reliable currencies.
Therefore BINACE will conduct a popularity vote for the currency not yet listed on BINACE in the program called Community Coin of the Month once a month.
To decide by user voting means that "there are many people who want to purchase"
4, Intuitive operation screen easy to understand even for beginners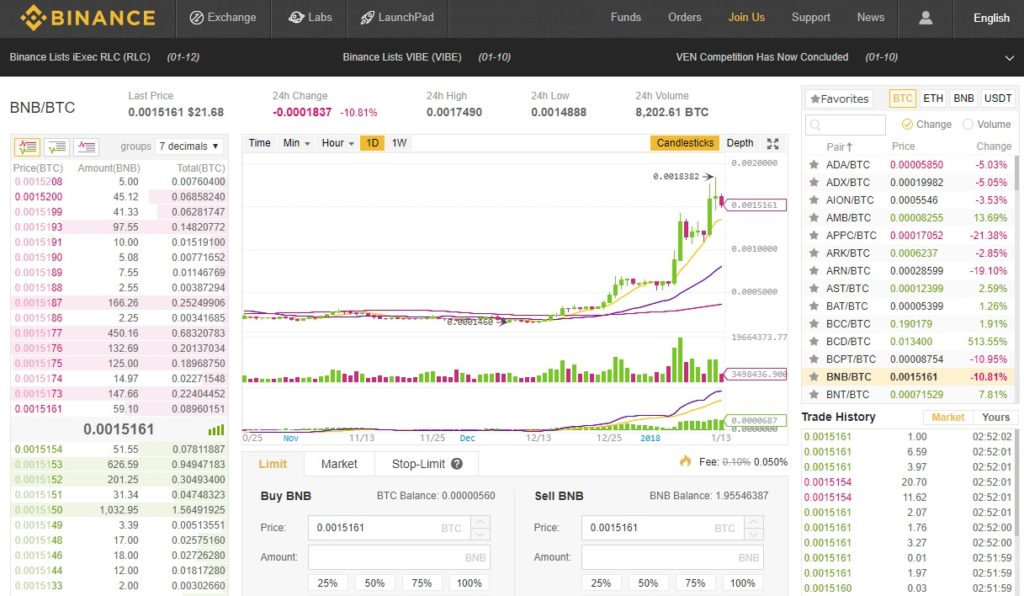 The operation of BINANCE is very easy. There are no complicated buttons, you can trade without any specific explanation.
* Since I explained the concrete transaction method for just in case, please see here.
The reason why BINANCE became the biggest trading volume in the world is that there are many users, but the other reason is that the operability is good.
5, BINANCE has participants worldwide
If there are few people using BINANCE, there is a risk that even if you want to sell the cryptocurrency, you can not sell at the price you want.
However, since BINANCE has a lot of transaction volume, it can sell immediately when you want to sell the cryptocurrency, and you can buy immediately when you want to buy it.
This is a very big advantage.
6, Higher order processing capacity
If the processing capacity of the transaction is low, you miss the opportunity.
BINANCE is thorough about that point, surprisingly it is possible to process 1,400,000 orders per second.
It will be possible to trade in near real time.
It is possible to prevent situations such as not being able to purchase at the desired amount of money due to the delay in transaction processing.

7, Smooth from the completion of registration until the start of trading
On many exchanges, it takes almost a week to two weeks to start.
The price goes up and down while you are registering, you miss the opportunity of trading.
However, in BINANCE it is possible to register immediately and trade immediately.
In other words, you can register now and start trading immediately.
There are many coins below $ 1 for BINANCE. Since there are many coins of 25 cents or less, you can purchase without missing the opportunity before the price rises.
You may be able to find a dreamy cryptocurrency that will also be 10 to 100 times larger.